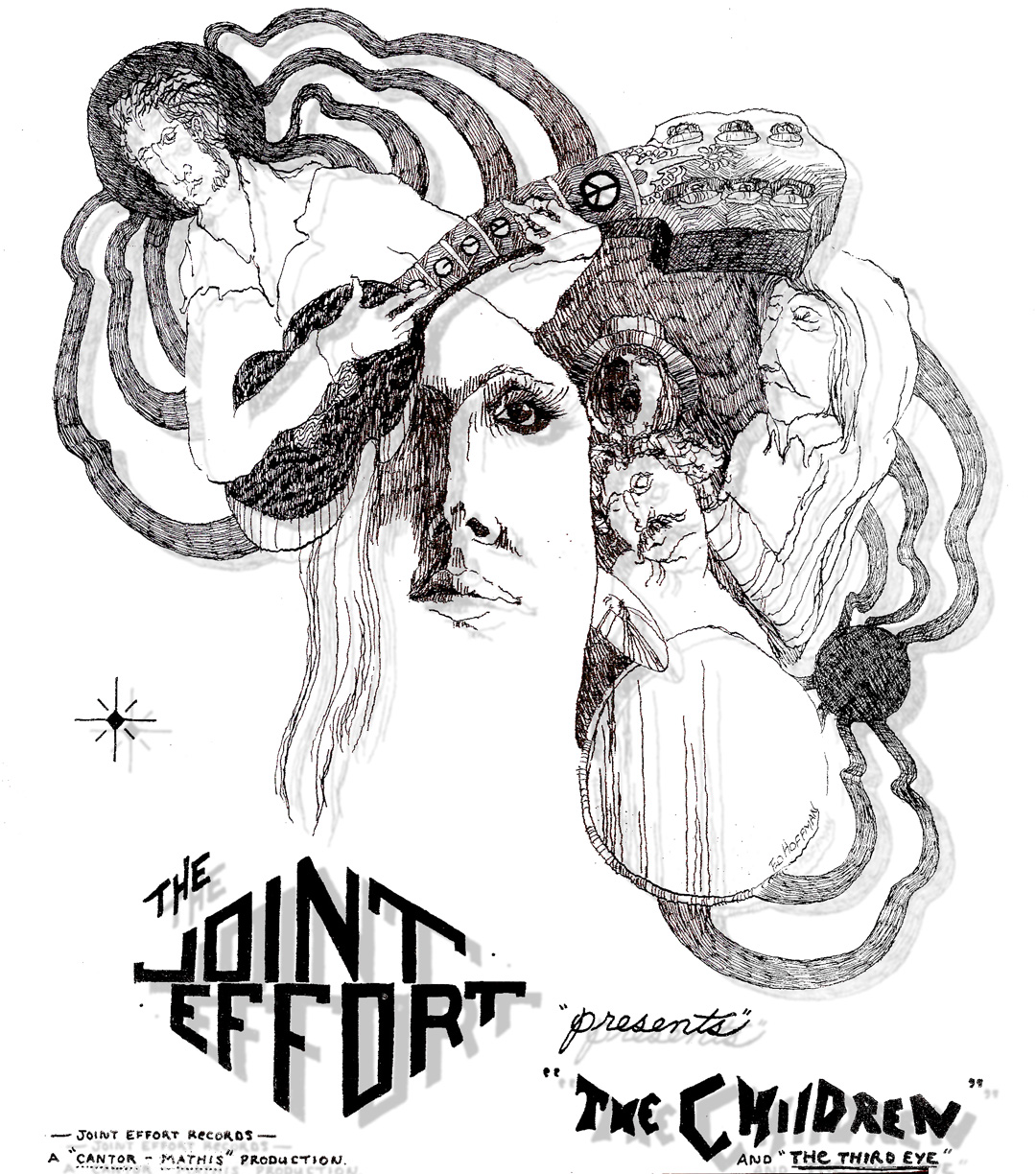 Gray Newell
Writer and Music Historian
The Joint Effort
In early 1967, three young musicians from San Antonio Texas decided to head west to Tinsel town to escape the more conservative climes of their home state and find their fortune. Dave Callens, Jeff Salisbury, and Ed Villareal had only been in Hollywood a few days when the fates conspired to bring them together with Bud Mathis, a songwriter and band manager who was hip to the trip on the Sunset Strip scene. Through Bud they connected with Wanda Watkins and Clyde Kaye and formed a group they somewhat appropriately named The Joint Effort. Bud and his business partner Barry Cantor helped get the group in to Art Laboe's Original Sound studios where they recorded the tracks that would become their debut 45, 'The Children' backed by the psychedelic raga rock classic 'The Third Eye' at the same time as becoming house band at Gazzarri's on the Strip, the hip hangout for all the happening people. The Joint Effort got to open for many of the big West Coast groups of the day, including The Doors, The Jefferson Airplane, the Peanut Butter Conspiracy, and the Strawberry Alarm Clock to name just a few.
Being based in Hollywood meant the band members were in demand as extras in films that required 'far out' freaks, with appearances in Clint Eastwood's Coogan's Bluff, biker movie The Angry Breed and, most notably, the 'death of hippy' sequence with Sky Saxon and the Seeds in Psych Out! Jeff Salisbury left the group in early 1968 (subsequently played with C K Strong, Albert Hammond and Cold Blood), with Tom Jacobson coming in to take up the drum sticks in his place. An unusual diversion occurred when the Joint Effort were booked for a series of shows in Hawaii as a bogus version of The Box Tops in order to cash in on the popularity of that group's smash hit 'The Letter'. Two further 45s were released over the next few months; the charming 'Mary on a Go Round' and the soulful 'Loving You Could Be Magic'.
The group relocated to Santa Barbara when they landed a residency at The Hangout club in Goleta that Bud was managing. They were on the cusp of signing to a major label when Ed and Wanda decided to return to Los Angeles, leaving Dave, Clyde and Tom to carry on as a trio, although Bud occasionally stepped up to the microphone to perform a couple of numbers in his own inimitable style. With the loss of Ed and Wanda the record deal was off the table and by the fall of 1968 the Joint Effort had disbanded. Dave, Ed, and Wanda continued to work together as a song writing team, teaming up with award winning producer Mike Post, placing songs with Mark Lindsay and The Raiders, Hank Williams, Susan Rhodes and many others. Dave and Tommy later formed Instant Joy with guitarist Tony Peluso, Henry Dandini and Pierre Vigeant, a group that often backed Mark Lindsay when he wasn't working with the Raiders, while Wanda went on to perform and record as a backing vocalist with Gary Wright of 'Dream Weaver' fame. Dave also branched out in to managing touring bands for 32 years, initially working with Bodine, Smith and then with Paul Revere & The Raiders and, much later, looking after the likes of Motley Crue to Coolio.
All of the Joint Effort 45s have become highly regarded by record collectors, commanding high prices for original copies, and the group featured prominently on the 'Bud Mathis' Sunset Trip' CD collection released by Dionysus Records in 2012. The recent discovery of a treasure trove of previously unheard recordings made by the group at Original Sound looks set to further enhance their reputation when they hopefully see a release at some point in the near future. In the meantime you can listen to their music on the links below and be transported back to those heady, magical times on the West Coast. Get ready to open up that third eye…
Ugly Things Magazine #41 AKA Mike Stax has a complete history and a wonderful article of The Joint Effort Band written by music historian Gray Newell.
by Dave Callens
I still have the Sears Silverstone guitar my mother bought me on my 15th birthday. Every week after my guitar lessons from David Underwood, I would ride my bike to my friend Ed Villareal's house; we would pass my Silverstone back and forth learning that day's lesson. Ed and I formed a band we called the Epics with Ted Garza on guitar and Charlie Schoenfeld on bass. We had a drummer named Ronnie Walma who actually won us 2nd place at the high school talent show because he could do the twist and play Wipeout at the same time.
.We later formed a group named The Soules and began to travel around Texas and actually made money. Tony Dale was the singer; Rick Scott on bass with Jeff Salsbury on drums until he was replaced by Sol Casseb. We played a lot of gigs in Austin and became well known in the San Antonio, Texas area. I was neither an intellectual wizard nor a college candidate, but I had some musical drive. I promoted and booked our gigs and travel around our small universe. With our old cars we couldn't drive that far and expect to get home. 
My parents tried very hard to get me to go on to college. I went to the local Jr. College for a year and a half, but by that time the Beatles had grabbed me; Where the Action Is and Hullabaloo were raging on TV. Ed, Jeff and I decided to go west and find our musical fortunes. I don't remember how we got the money, but we managed. We took off in Ed's 1955 Chevy pulling a trailer. The trip was fairly uneventful except for being flagged down by another motorist and finding out that half our clothes had blown out the back of the open trailer for the last five miles. Losing our wardrobe was not going to keep us from our adventure.
My first memory of Hollywood was pulling off the 101 Freeway and driving down Santa Monica Blvd.to the Alta Cienega Motel, which is still there in its full rundown glory. It was no magnificent mansion then either. We lasted two days before we found Peckman's Palace and the infamous Bud Mathis.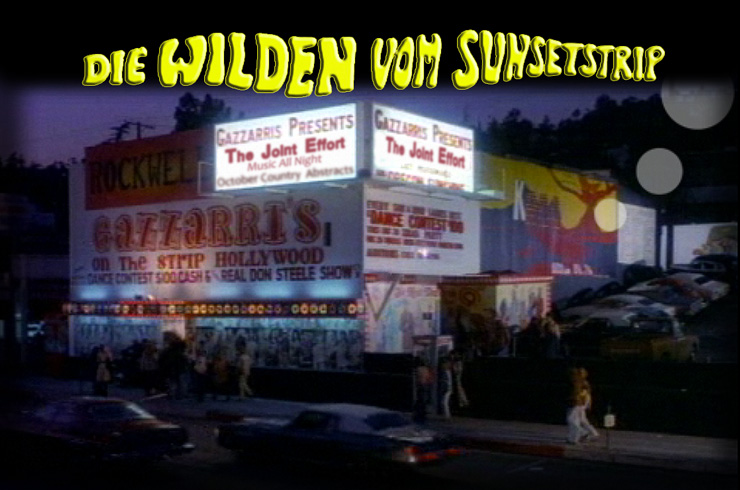 Bud Mathis introduced us to Wanda Watkins and Clyde Kay. Wanda had been working with Bud's group the Brain Train and was very accomplished in her singing and fitting into an all male band. Clyde was just Clyde, a great guy and a great player. We got an audition at Gazzarri's on the Sunset Strip and Bill soon made us the house band. We played six nights a week and Sunday afternoon jam sessions. It was the perfect place to hone our emerging skills.
As the time passed we had written many songs and were ready for the recording studio. We had hoped it was our time for a hit record as everyone around us was having success. Bud introduced us to Barry Cantor and he became our record rep. Many adventures in Hollywood awaited us through these years. Gigs with many future famous bands and great venues. It was the time of our young lives!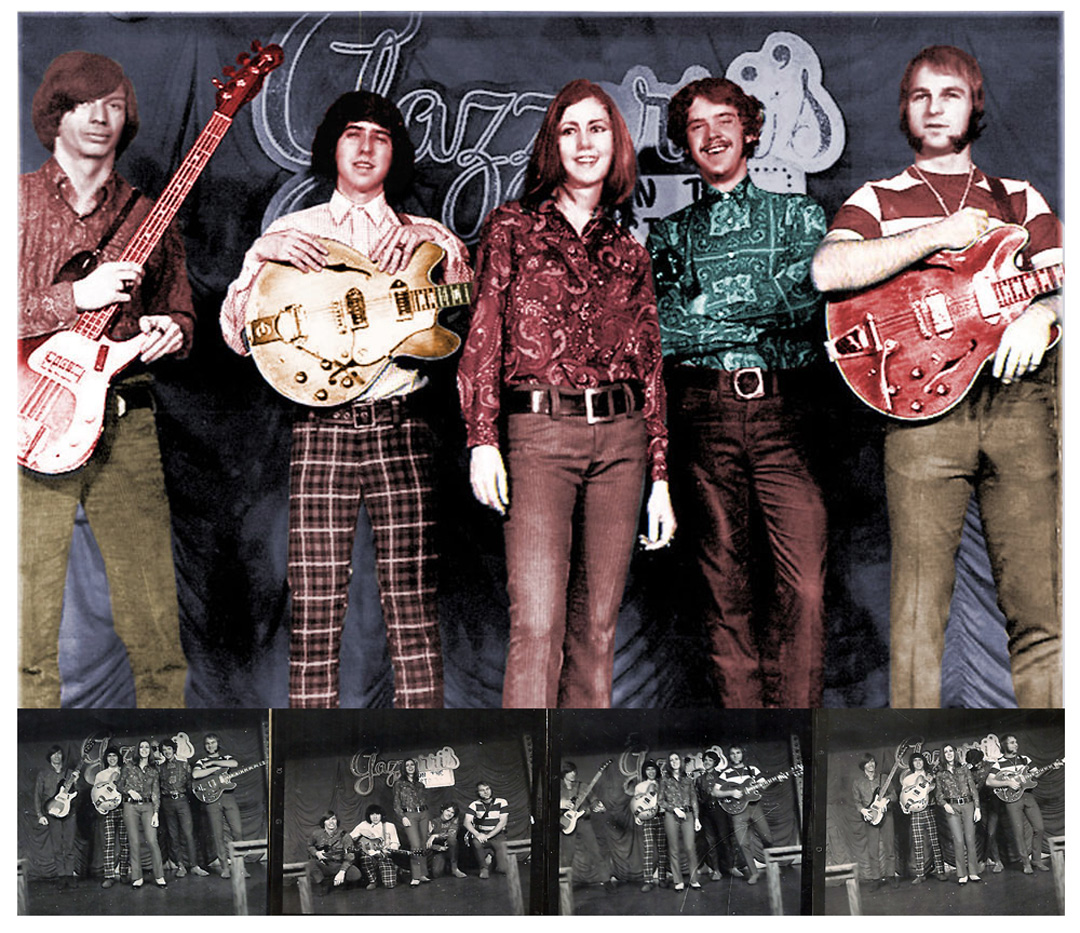 In 1967 we were signed by Art Laboe of Original Sound Studios and were recorded by Paul Buff and his amazing 10 track recorder. At that time we met many of the artists that were recording. Unfortunately it was the sixties and I don't remember that much of it.
One of those moments of crazy times as extras in a jack Nicholson movie "Psych Out"
Tom Jacobson joined the group about the time John Mariscalco of 'Good Golly Miss Molly' fame wanted to produce some recordings with us. We recorded at Gold Star studios. By this time our vocals had become much more polished and Mariscalco heard us as a more Association/Mamas&Papas group rather than a psychedelic band. It was ok as we just wanted to release a record that would get airplay. We had some local success and played gigs with: The Doors, The Jefferson Airplane, The Peanut Butter Conspiracy, The Strawberry Alarm Clock and every night at Gazzarri's was almost an open mic with the local celebrities and artists sitting in. At one point after we had left Gazzarri's, we were talked into doing a short tour impersonating the "Box Tops". They were a studio group and didn't like the travel and they didn't do well on the road considering they had a couple of huge hit records, so we were told. We wanted to tour and this was our chance to get a taste of it. We were pretty good mimics too. No one ever questioned us. We opened in Hawaii's HIC Arena and Del Shannon opened the show. After that the problems with our crooked promoter forced us to abandon the Viet Nam USO Tour and come home and rethink things.
"Good Golly Miss Molly" John and I wrote a few songs a few songs together:
After arriving back in Hollywood Bud got us a gig in Goleta, CA. near the college in Santa Barbara. The club was "The Hangout." We took it over and stayed for almost a year. During that time Ed and Wanda got disappointed in the group and decided to leave the group a month before we were to go into the studio and begin the recording of our first LP. We continued on as a trio for a few months before disbanding completely and officially, The Joint Effort was history in early 1969.
Ed, Wanda and I continued as a song writing team until 1976. During that time Tom Jacobson and I teamed up with his old band mates from The Abstracts to form a new band, "Instant Joy". Tony Peluso was Tom's cousin; Pierre on bass and Hank on Hammond M3. Our first gigs were with Bobby Sherman and later we backed up Mark Lindsay of Paul Revere and the Raiders; and toured with the Carpenters. It was early 1972 when I finally decided to hang up my guitar to began my 32 year career of touring as a roadie, sound mixer, lighting director, tour accountant and tour manager. I loved touring.
I still loved writing songs with Ed. Our last collaboration was on the 1978 Tavares' album "Future Bound".
Other songs were recorded by different artists over the years.
 Feel The Heat and You're the One
Other artists were: Paul Revere and the Raiders, Gloria Loring, Hank Williams Jr., John Davidson,
Moving On
. I played for a while with my friends Tom, Tony, Pierre and Hank. We were "Instant Joy". Our first big gig was being the backing band for Bobby Sherman. It didn't last very long as we had competition from an old band mate of the Abstracts. We later backed up Mark Lindsay on the Carpenter's Tour. Jim Hilton was our producer and we had recorded a lot of songs with him before we all moved on….
Finding My Trade In Life
. It was in the spring of 1969, my friend Richard Grote introduced me to his girlfriend's brother Keith Allison, who at that time was a teen idol on his own and the singer/bass player for "Paul Revere and the Raiders." They were heroes of mine since I had covered their hits in my bands. They needed a roadie and I had all the skills for that. It was a wakeup call. I loved it. And, for the next 32 years, I traveled and gigged with some of the greats and not so great artists of my time.
            I wasn't real smart; I wasn't real charming, but I wasn't an unlikable person. I had a great sense of timing logistic-wise; a better than normal logistic mind; I learned from mistakes; I had a partial photographic memory and probably the most important thing I brought to the table was the fact that people didn't lose money on my watch. I was a good accountant. I attribute this to my five years of touring with Paul Revere and the Raiders where I leaned my craft. What I learned during my first years was my limitations. I knew where I wasn't going to thrive and swim with the sharks most of the time. Especially with people that had their own agendas. Although from time to time, I took some work that in hindsight I really shouldn't have. But you need to survive and feed your family. I was liked by the agents who recommended me over and over. They knew they could count on me to finish what I started, no matter how difficult and bring home the bacon.
As Hunter Thompson & Reverend Ike had said:
"SHOW BUSINESS, A DEEP MONEY TRENCH; A LONG DARK PLASTIC HALLWAY.
A PLACE WHERE PIMPS, THIEVES AND WHORES RUN FREE, AND WHERE ALL GOOD MEN DIE LIKE DOGS."






by